Instructional Virtual Lab
The Instructional Virtual Lab is a virtual environment in the CSL's VMware Cloud where you can create virtual machines or groups of virtual machines for coursework that requires more flexibility than the traditional instructional labs.
Using the Virtual Lab
To use the virtual lab, you will first need to request a virtual machine from the CSL. In order to access the Virtual Lab, please visit the Instructional Virtual Lab Request Form . Follow the directions to request a virtual machine (VM). You will receive email with important instructions on how to access and use the VM assigned to you.
Please be understanding of any delays that may be encountered with creating a VM as this is the first semester for this virtual lab and there may be still some issues to work out.
If you need more than one VM, or a special configuration, please note this in the comment section of the form, or send email to lab@cs.wisc.edu
There are multiple ways to access your virtual machine based on your operating system. You must either be in the Computer Sciences building using the Computer Sciences network or using the Department VPN if trying to use these resources remotely.
Department Windows
VMware vSphere Client is available on any of the computers in the Windows Instructional Lab.
Department Linux
VMware Workstation is available on any non-mumble lab Linux desktops in the department.
To access your virtual machine from the mumble lab, you can use the VMware remote console plugin: Open a terminal and run: /usr/lib/vmware-vmrc/bin/vmware-vmrc
After you log in, you will be presented with a list of VMs that you can access. This will take you to the console of that virtual machine and will start it up if it is not already on.
Personal Computers
If you wish to access your personal laptop or home computer, you can download the appropriate software from VMware Academic for free. Again, this option can only be used through the Department VPN .
Using VMware Applications
The following guide uses VMware's vSphere Client for Windows; depending on your operating system, your display may differ.
Logging In
After starting the VMware software, you will be presented with a login screen like: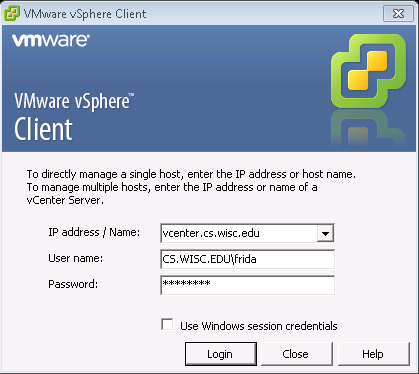 In the IP address / Name box, type vcenter.cs.wisc.edu. The above example is configured for a user with the username frida; in the User Name box, type CS.WISC.EDU\ followed by your CS username. In the Password box, type your CS password.
If you are presented with a certificate error, check the box and press Ignore and you will no longer be presented with messages about certificate errors.
When you first login you will be presented with a home screen with a variety of options on it. Most of these are irrelevant to you and can be ignored. Click on VMs and Templates under the inventory section.

Now expand locus.cs.wisc.edu on the left hand side until you see your VM as shown; in the example below, vlab-01.cs.wisc.edu is used.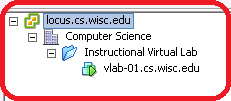 You will only see the VMs you have access to. Click on your VM and you will see all the possible options of things you can do with your VM. Press Power On to start your VM. Then click on Console. Click anywhere in the black area and press ESC on your keyboard to get the boot menu. Press CTRL+ALT to escape the console.
Installing an OS from an ISO image
You will probably want to install an OS. Download an ISO for the OS of your choice and store it somewhere where you can find it again. Once this is done, go back to the vsphere client and click on the image of a CD with a wrench, highlighted in green in the image.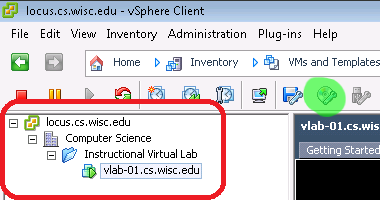 Hover over CD/DVD drive 1 and then click on Connect to ISO image on local disk... when it appears. Browse to wherever you stored your ISO image and click on it and click Open. The image is now mounted. Be aware that every time you power down your virtual machine, the image unmounts.
Click back in the console anywhere and use the arrow keys to select CD-ROM Drive from the boot menu and hit enter. It will boot off of the CD image. You can use the console as if you were directly sitting in front of the computer. The CSL does not provide specific install instructions for operating systems, however important networking details are located below. Remember to press CTRL+ALT to get out of the console once you are in it. If you need to send CTRL+ALT+DELETE to your VM, press CTRL+ALT+INSERT while in the console.
To shut off or reset your VM, go back to the summary page of your VM and you will see a variety of power options. You can also do these same options from the toolbar at the top of window.
Using Snapshots in vSphere
One of the nice features available to you is what is called "Snapshots". Snapshots allow you capture how your VM was at a certain point in time. This is very useful if you are trying out different things which could result in you breaking the OS you have installed. Instead of having to re-install each time, you can take a snapshot before you begin your experimentation and revert to a previous snapshot if something goes awry.
On the toolbar, you will see the three snapshot icons. You will notice one of them is grayed out.

The first icon (circled in blue) allows you to take a snapshot. Click on this will give you a dialog box allowing you to name your snapshot along with any description you want on what the snapshot was. If you want the snapshot to be a running state, you will want to snapshot the virtual machine's memory. Otherwise, you will have to reboot to revert to a snapshot. Click OK to create the snapshot.
The second icon (circled in red) allows you to revert to the immediately previous snapshot.
The third icon (circled in green) allows you to administer your snapshots if you have more than one allowing you to revert to any of them along with deleting any irrelevant snapshots you might have.
Virtual Lab Configuration, Policies and Procedures
Expiration
VMs will be checked out on a per semester basis. At the end of each semester, you will be sent an email notifying you that your VM will be deleted. You can, if needed, request a renewal (subject to approval).
Resource Limits and Multiple Virtual Machines
We have limited resources available to dedicate to the Instructional VIrtual Lab. Please exercise discretion and understand that there are situations in which we cannot allocate multiple VMs to users. If you have specific resource needs, please send email to lab@cs.wisc.edu as far in advance as possible, and we will do our best to fulfill your request.
Virtual Machine Resource Configuration
The Virtual Lab virtual machines are hosted on VMware ESX 5 hosts, and each VM will be given the following resources:
| | |
| --- | --- |
| CPU | 1 vProc / 1 core |
| Memory | 1 GB vRAM |
| Disk | 80GB Virtual Disk |
| Network | Intel E1000 Gigabit virtual adapter |
If you need a different configuration, please send email to lab@cs.wisc.edu with the details of your request.
Networking Details
The IP address and hostname are in the email sent to you when you request a VM. For reference, the VM IP addresses begin at 128.105.100.123 on vlab-01.cs.wisc.edu and continue sequentially to 128.105.100.162 with vlab-40.cs.wisc.edu.
Network Parameters
| | |
| --- | --- |
| Domain | cs.wisc.edu |
| Subnet | 128.105.100.0 |
| Netmask | 255.255.255.0 |
| Broadcast | 128.105.100.255 |
| Gateway | 128.105.100.248 |
| Name server | 128.105.252.100 |
The Virtual Lab lab is on a segregated network which also requires a WWW and anonymous FTP proxy for access to web and ftp sites outside the Computer Sciences Department: configure your clients to use squid.cs.wisc.edu on port 3128.
Firewall Configuration
Virtual Lab VMs have the same firewall configuration as the "insecure/experimental workstations and networks" network. Please see the Insecure/Experimental workstations and networks documentation for details on network restrictions.